The holy town of Kedarnath sits comfortably on the lap of the mighty Garhwal Himalayan range near River Mandakini. Pilgrims utilize the Kedarnath travel package and flock to this place during the pilgrimage months of April to November as a part of their Chota Char Dham Pilgrimage Yatra. Being located among the lush green rolling mountains, the surrounding areas of Kedarnath also hold immense relevance and offer some of the most scenic views. In case you are looking to explore the road less traveled then the Kedarnath vicinity has a lot to offer.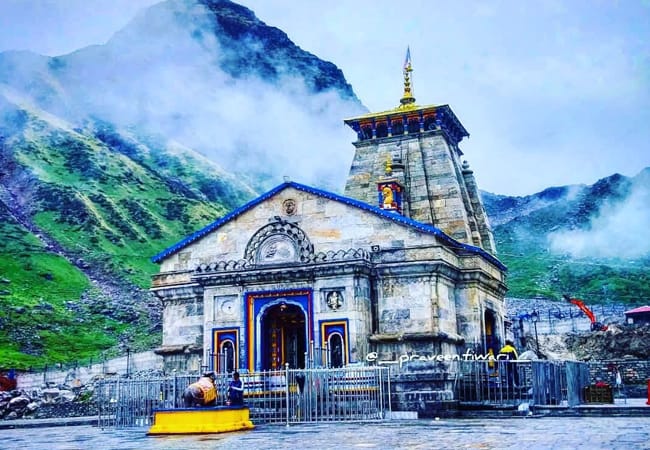 Here are a few places to visit near Kedarnath which you must definitely consider going for in your next visit:
5 Best Places near Kedarnath
Vasuki Tal
Bhairav Mandir
Agastyamuni Temple
Triyuginarayan Temple
Chorabari Tal (Gandhi Sarovar)
1. Vasuki Tal
This high-altitude glacial lake, which is located at a distance of 8KM from the main Kedarnath temple, is an astounding sight to behold. Sitting at an altitude of 4,135 meters above sea level this lake is considered to be extremely auspicious since it is believed that Lord Vishnu had taken a bath here during Raksha Bandhan. Adventure lovers and thrill-seekers make sure to cover this trek since it makes way to the splendid views of the Mandakini River and Chaukhamba Peak.
Pro Tip – The best time to visit is between the end of September and to end of October.
2. Agastyamuni Temple
Located at a distance of 20 KM from Rudraprayag this temple holds immense spiritual significance since it is dedicated to saint Augustmuni, who had meditated here for over almost a year. The temple is beautifully adorned with images of other Hindu deities and delicate carvings all over the walls of temple. Apart from being religiously significant, it is also an exciting site for people who like fishing on the banks of River Mandakini.
Pro Tip – Be sure to visit this temple during the festival of Baisakhi if you want to witness a grand celebration.
3. Triyuginarayan Temple
This holy temple dedicated to Lord Vishnu is located at a distance of 27 KM from the main town of Kedarnath. It is said that he had witnessed Lord Shiva's marriage to goddess Parvati from this very temple making it extremely spiritual and pious. One can witness a perpetual divine fire burning at the entrance which is said to be set aflame ever since their marriage took place. One can easily access this temple via trekking. The architectural style of this temple resembles that of the main temple of Kedarnath Dham and inside there is 2 feet tall Lord Vishnu idol.
Pro Tip – Make sure to plan your trip keeping in mind the months of heavy snowfall during November, December, and January, which makes the temple inaccessible.
Are You Looking for a Wedding Package so Please check out – Triyuginarayan Temple Wedding Package
4. Chorabari Tal (Gandhi Sarovar)
This small lake holding crystal clear, calm water is located at a distance of 4KM from the Badrinath Dham. It is set at a height of 3,900 meters above sea level on the foot of Kedarnath and Kirthi Stambh Peak. People who are interested in trekking and thrilling adventure activities flock to this place during the pilgrimage seasons due to its proximity to the Dham. En route, you will also witness a magnificent waterfall that just adds to the beauty of the place.
Pro Tip – Carry along some snacking items and water along with you since there are no food stalls or restaurants available here. Also, be sure not to litter and diminish the value of our pristine nature.
5. Bhairav Mandir
Located at a mere 30 minutes uphill trek from Kedarnath people who pay a visit to Kedarnath make it a point to visit this temple, which is dedicated to one of the most fierce manifestations of Lord Shiva, Bhairav. The trek is of moderate level and can be done by anyone visiting the temple. One can view the entire magnificent Kedarnath valley from this temple while offering their prayers. It is advised to visit this temple when the gates of the Kedarnath temple open up for visitation since otherwise, this temple also remains submerged in thick snow.
Pro Tip – Although this is a relatively easy trek, be sure to complete it in comfort by wearing your sports shoes and carrying just some light essentials in your backpack.