Thailand is a stunning destination that is famous not only for its abundant natural beauty and several hot spots but because of its unique culture which is being carved by various Asian countries. The main reason which is one of the leading influences in the making of Thailand's culture is its religion. Theravada Buddhism has prominently influenced the culture and tradition of Thailand and it can be seen in many attractions like some of the stunning temples of Thailand. If you are planning a trip to Thailand plan a trip to these astounding temples of Thailand.
Wat Khaek Temple (Mariamman Temple)
Wat Khaek means "Indian Temple" in Thai and is also known by the name "Sri Maha Mariamman Temple or "Maha Uma Devi Temple. It is located in Silom in Bangkok. This temple is dedicated to Goddess Mariamman and is almost like Tamil Temple.  This temple is built with South Indian architecture and also has a gopuram. The gopuram of this temple is even adorned with images of various gods & goddesses. Gopurams are usually considered as the thin line between the materialistic world and the spiritual world. Within this gorgeous temple, one can observe the various shrines of different deities but the major shrine is purely dedicated to the main deity Sri Maha Mariamman which even has a shiny copper polishing. Tourists visiting this temple can also spot kiosks selling flowers outside the temple and numerous Hindi and Buddhist followers pay a visit to this temple during Diwali and Navratri.
Prasat Mai or Wang Boran (Sanctuary of Truth)
Prasat Mai or Wang Boran is popularly referred to as the Sanctuary of Truth and is located in a beach front location in Pattaya. The construction of this temple is wooden only and is filled with numerous sculptures which are based on Hindu and Buddhist motifs. The setting and architecture of this temple are inspired by Khmer architecture and it has several hand-carved sculptures as well which portrays the setting of Angkor. This temple houses four Gopura which beautifully represents images of religion and mythologies of India, Cambodia, Thailand, and China. The most interesting fact about the Sanctuary of Truth is that it does not have any religious significance. This temple beautifully stands for Thai culture's traditional thoughts and beliefs and is one of the best temples in Thailand without a doubt.
Phanom Rung
It is one of the most stunning sites of Khmer architecture in Thailand and is located in Buriram of the Isan region. This outstanding temple complex is on the rim of an extinct volcano and the sandstone and laterite structure of Phanom Rung is dedicated to Lord Shiva and the structure symbolizes Mount Kailash. Department of Fine Art of Thailand took 17 years to restore this complex to its original state. In the month of April, Phanom Rung Festival is celebrated here with light and sound shows and Brahmin ceremonies as well.
Wat Chaiwatthanaram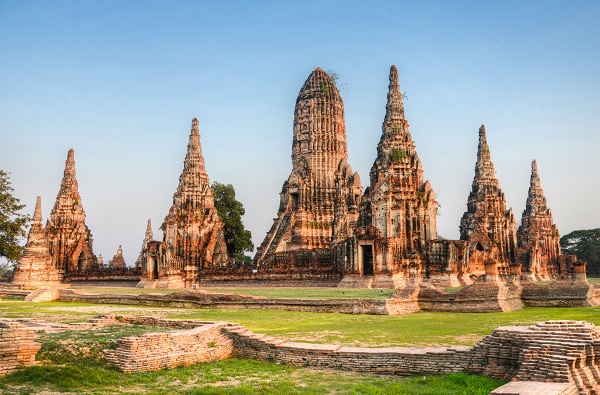 Wat Chaiwatthanaram is located in Ayutthaya historical Park and it is a part of the UNESCO World Heritage Site as well. The temple complex however does not fall in the World Heritage Site range. This temple is located on the banks of the River Chao Phraya, outside Ayutthaya island. This temple is a royal temple that was earlier been used by the king and his successors to perform religious ceremonies. This place is also the cremation ground of the prince and the princesses and built in the Khmer style of architecture. It is one of the gorgeous temples in Thailand which deserves a visit at least once.
Wat Pa Maha Chedi Kaew (Temple of a Million Bottles)
This temple is located in Khun Han of Sisaket province and is called as Temple of a Million Bottles. This name meant that it is made of 1.5 million empty beer bottles. The construction of this temple was started in 1984 and the bottles of Heineken and Chang beer bottles are used in this temple. Moreover, the caps are also used to make mosaics; this temple is a beautiful environmentally friendly temple. The use of green beer bottles gives this temple a bit unique touch and it is really an eye-catching site. People love to visit this alluring temple because of its uniqueness in the way it was constructed.
Wat Tham Pha Phong
This marvelous temple is carved partially into a cave and is located on the edge of the Chiang Dao massif. This temple is surrounded by the lush green aura and is one of the most spectacular temples in Thailand you have to climb up to 500+ stairs to reach the main complex of the temple. Currently, this temple is the residing place of the monks and the people who wish to stay here. Monks also give meditation classes here and the lessons start from 3 in the morning and it is the apt place to spend some time in the peaceful surroundings and to relax as well.